MEET SVR JET FOR AERODERIVATIVE TURBINE OIL
Coking is a failure mechanism that will affect most aeroderivative turbines in their operating life leading to premature mechanical overhauls and production losses. Coke begins as a dissolved oxidation by-product produced by high temperatures, water content and entrained oxygen before converting to a solid form and depositing on metal surfaces. Existing oil analysis and maintenance programs do not consider this contamination leading to high acid numbers, coking or varnish deposits, and shortened oil life.
SVR® JET is a skid-mounted dialysis-style lubricant conditioning system engineered to remove varnish, coking pre-cursors and particulate. When combined with our TMR™ N2 water removal system, atmospheric water ingression is eliminated, dissolved oxygen is removed, and surface contact with oxygen in the lube oil tank is prevented, severely restricting oil breakdown. Backed by patented ion-exchange technology, ICB® JET, the acid number is reduced and managed, so jet lubes no longer have to be condemned based on the acid number.
The combined approach of dissolved contaminant filtration and removing oxygen and water offers a comprehensive step-change in jet lube maintenance, allowing aeroderivative turbine users to maintain oils in ideal operating conditions.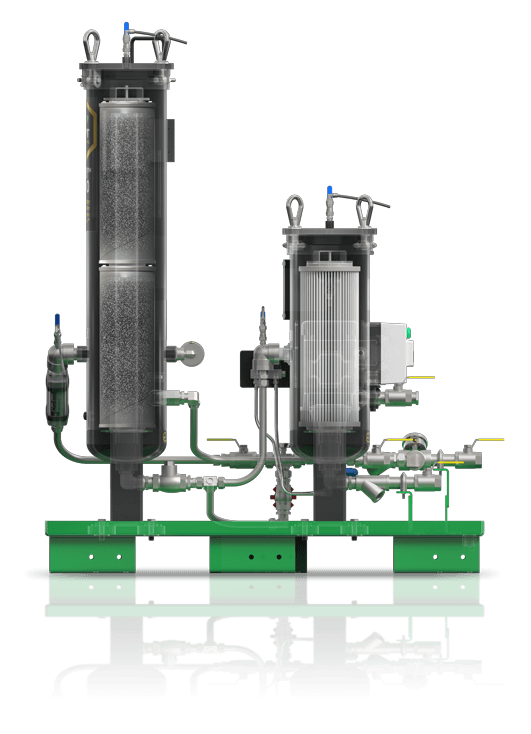 SVR JET Features and Benefits
Utilizes patented ICB® JET ion-exchange technology with over 30 million successful operating hours
Removes dissolved oxidation by-products, or coking precursors, which are the feedstock from which all coking deposits are formed, breaking the lubricant deposit formation cycle, protecting bearings and other critical components
Selectively removes acids and stabilizes the acid number providing optimal lubricant quality throughout the lubricant lifecycle while protecting mechanical components
Protects hydraulic variable geometric control systems from sticking
Resolves known issues when speed changes occur
Protects against compressor surges and catastrophic engine failure
TMR™ N2 generates high purity nitrogen from a standard compressed air source to blanket the oil reservoir removing water and eliminating contact with oxygen, protecting the lubricant and eliminating catalysts that contribute to oxidation
Quickly removes and maintains low water levels without consumable elements
Quickly reduces entrained oxygen and promotes dissolved gas removal
Eliminates the primary ingression pathway for water and metal contamination, thereby promoting chemical stability of the lubricant and reducing maintenance requirements
Reduces ISO particle counts, protecting and extending roller element bearings trouble-free operating window
Manufactured to ISO 9001 standards
Low maintenance: Turn it on and let it run; that's it
No downtime – SVR can be installed without an outage
SVR JET owners gain access to a complete support program, including complimentary oil analysis and expert interpretation from our professional and Ph.D. Chemists until results have been documented. After results have been confirmed, owners are given the option to continue the analysis program for a quarterly fee.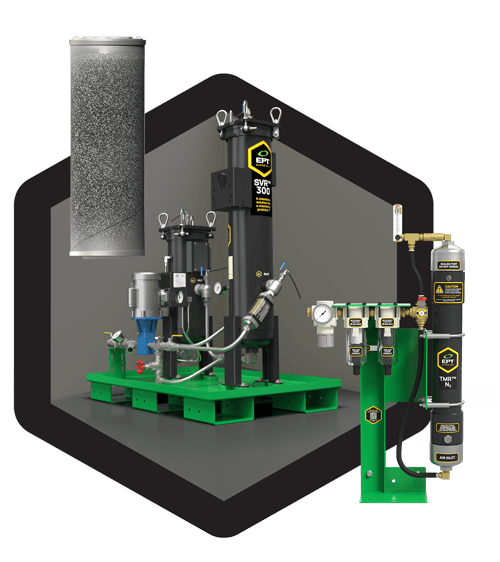 SVR JET System Sizing for Aeroderivative Turbine Lubricant Maintenance
For regular aeroderivative turbine oil maintenance, the desired flow rate is to exchange the fluid reservoir volume 4x per day with sufficient acid removal capacity for a given reservoir volume. Larger equipment may be preferred for recovery projects where higher Acid Numbers are present. The filter format used in the SVR JET 600 and SVR JET 1200 models is more cost-effective for these situations.
| SVR SYSTEM SIZE | SVR JET 150 | SVR JET 300 | SVR JET 600 |
| --- | --- | --- | --- |
| Reservoir Volume (L/gal) | <500 / 132 | <850 / 225 | >850 / 225 |
| Reservoir Exchange Rate per 24 hr | 5.7x | 6.8x | 10x |
SVR JET Electrical Configuration Options
CSA Class 1 Div 1 Group C&D with 50 Hz and 60Hz electrical voltage options
CSA Class 1 Div 2 Group A, B, C & D with 50 Hz and 60 Hz electrical voltage options
IECeX and ATEX-approved configurations are available. Don't hesitate to get in touch with us for more information.
We supply equipment with single-phase and three-phase voltage options.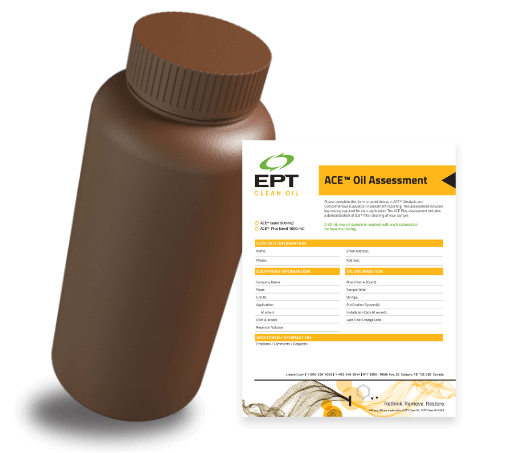 Get a Complete Picture of Your Aeroderivative Turbine Oil
EPT Clean Oil's Fluid Technical Center is a state-of-the-art lubricant research facility, offering specialized analysis and comprehensive evaluations for your aeroderivative turbine oil.
Our Lube Oil test package, applicable for aeroderivative or jet lubes, includes:
Viscosity (40°C)
Water
ISO Particle Count
Dissolved Metals
Fluid Color
Acid Number
Antioxidant Levels
Submit an oil sample today, and let's get a handle on the remaining life of your aeroderivative turbine oil.