MEET SVR FRF FOR PHOSPHATE ESTER FLUIDS
Phosphate ester fluids are the preferred hydraulic fluid for electro-hydraulic control (EHC) systems due to their excellent fire-resistant properties. Suffering from unnecessarily high acid production levels, these fluids are challenging to maintain, demanding additional fluid maintenance and chemistry management. Standard acid filters aren't enough, often contributing to fluid breakdown and equipment failure as they don't address fluid chemistry.
SVR® FRF is an engineered dialysis-style fluid conditioning system backed by patented ICB® FRF ion-exchange technology and best-in-class mechanical filtration to manage and maintain phosphate ester fluids fully. Based on 30 years of dedicated experience, the SVR FRF design meets the requirements for nuclear applications addressing fluid chemistry to mitigate high acid levels, gel formation, and rampant varnish and return fluid quality to operating specifications without flushing or fluid change.
Combined with our TMR® N2 water removal system, the primary breakdown pathway of phosphate ester fluids can be fully managed. This combined approach removes up to 10x more contamination, controlling the rate of fluid breakdown and providing best-in-class protection against EHC system failures and lost revenue.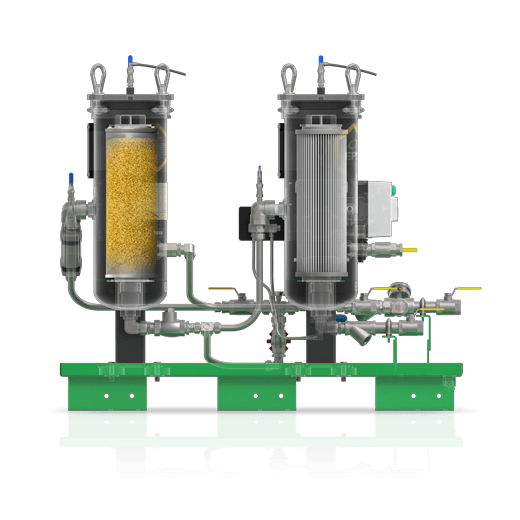 SVR FRF Features and Benefits
Utilizes patented ICB® FRF ion-exchange technology to remove acids, dissolved metals, varnish and varnish precursors
Protects servo valves by eliminating the contamination that would otherwise cause valve sticking or slow valve response time
Offers the highest acid removal capacity available on the market, maintaining Acid Number to <0.09
Significantly improves fluid resistivity
Significantly reduces ISO particle-counts
Reduces water by 150 PPM per day and maintains water <300ppm, as well as lowers oxygen levels, further decreasing fluid breakdown and harmful dissolved gases including O2, CO, H and C2C4 with the recommended TMR™ N2 system add-on
Significantly extends fluid operating life
Eliminates the need for flushing
Manufactured to ISO 9001 standards
Small footprint and straightforward plumbing
Low maintenance: Turn it on and let it run; that's it!
No downtime – SVR FRF can be installed without an outage
SVR FRF owners gain access to a complete support program, including complimentary oil analysis and expert interpretation from our professional and Ph.D. Chemists until results have been documented. After results have been confirmed, owners are given the option to continue the analysis program for a quarterly fee.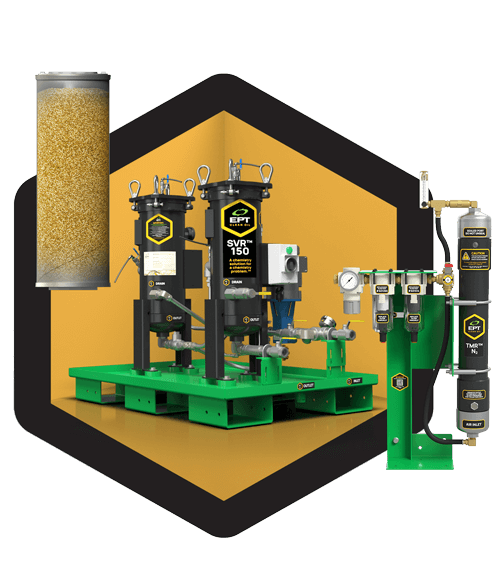 SVR FRF System Sizing for Phosphate Ester Fluid in EHC Applications
| SVR SYSTEM SIZE | SVR FRF 150 | SVR FRF 300 | SVR FRF 600 | SVR FRF 1200 |
| --- | --- | --- | --- | --- |
| Reservoir Volume (L / GAL) | 912 / 240 | 1824 / 480 | 4560 / 1200 | 9120 / 2400 |
| Reservoir Exchange Rate per 24 hr | 5.7x | 5.7x | 5.7x | 5.7x |
SVR FRF Electrical Configuration Options
General Purpose with 50 Hz and 60 Hz electrical voltage options
CSA Class 1 Div 1 Group C&D with 50 Hz and 60Hz electrical voltage options
CSA Class 1 Div 2 Group A, B, C & D with 50 Hz and 60 Hz electrical voltage options
IECeX and ATEX-approved configurations are available. Please get in touch with us for more information.
We supply equipment with single-phase and three-phase voltage options.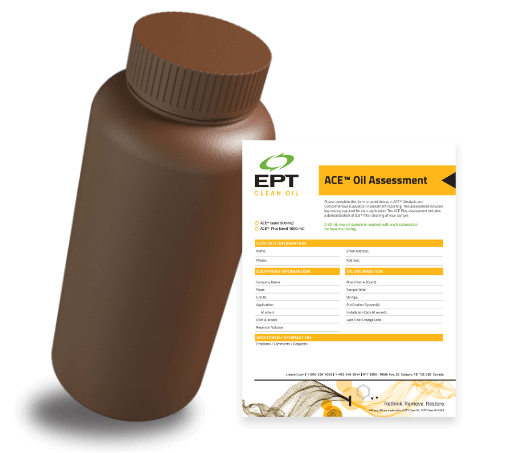 Get a Complete Picture of Your Fluid Condition to ASTM D8323 Standards
EPT Clean Oil's Fluid Technical Center is a state-of-the-art lubricant research facility, offering specialized analysis and comprehensive evaluations of your phosphate ester fluid's condition as per the guidelines provided in ASTM D8323.
Our Phosphate Ester test package, applicable for electrohydraulic control (EHC) oils and fire-resistant fluids, includes:
Viscosity (40°C)
Water Content
ISO Particle Count
Dissolved Metals
Fluid Color
Acid Number
Resistivity (20°C)
Phenol Levels
Submit a sample a fluid sample today and let's get a handle on the condition of your phosphate ester fluid.
Case Study: ROI of 680% with SVR FRF
A peer-reviewed ASTM article reported the economic impact of operating SVR and ICB technology since 1992 on 100 turbines in Canada.
Reduced environmental waste by 19 million pounds (9,047 pounds per turbine per year)
Significantly reduced lubricant maintenance costs saving $1 Million per turbine since 1992
Reduced equipment failure to nil, saving $13.4 million per year
Generated an ROI of 680%, excluding mechanical failure reductions
Based on the high failure costs before 1992, the continued usage of phosphate ester may have been considered economically unviable unless fluid purification was adopted utilizing SVR FRF and ICB FRF.